Maple Apple Butter!
Ingredients:
24 medium apples chopped (peeled or unpeeled)
2 cups apple cider
2 1/2 cups Turkey Street Maples Maple Syrup
4 tablespoons lemon juice
3 teaspoons ground cinnamon
1/2 teaspoon ground nutmeg
1/4 teaspoon allspice
1/2 teaspoon ground cloves
Instructions:
1. Place apples and apple cider in a large pot and bring to a simmer over medium heat. Cook 20-30 minutes or until apples are completely tender. Be sure to stir occasionally to prevent burning.
2. In small batches, place the cooked apples in a blender and puree. Pour into a large bowl and repeat until all the apples are pureed.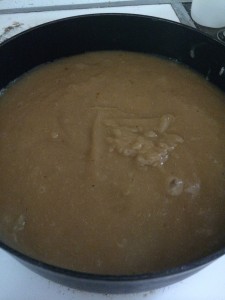 3. Pour pureed apples into a large pot and bring to a simmer over medium heat. Add in Turkey Street Maples Maple syrup, lemon juice, ground cinnamon, nutmeg, allspice, cloves. Continue to simmer until sauce thickens and turns to a deep brown (about 1 – 2 hours), stirring often to prevent burning.
4. Pour sauce into heated mason jars and cover. Process jars for 10 minutes in a boiling water bath. Store for up to a year.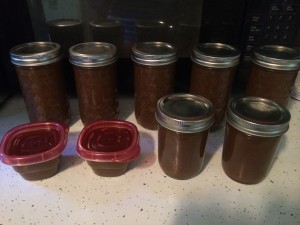 Please feel free to share this recipe, however please link back to this page.
Share This Recipe, Choose Your Platform!